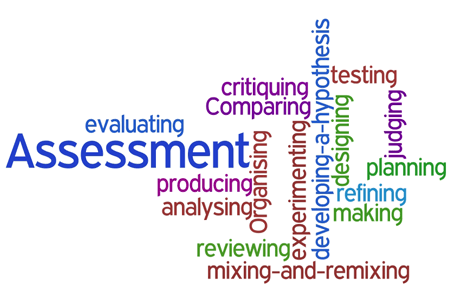 Avyud Academy provides information about student's achievement through regular assessment. It provides useful reporting information. Checks learning to determine what to do next and then provides suggestions on that.
This form of assessment is crucial in helping students become lifelong learners. As students engage in peer and self-assessment, they learn to make sense of information, relate it to prior knowledge and use it for new learning.
We conduct regular assessments through advanced techniques/tools & analyses the learning process curve in structured way. It highlights their incompetency and they overcome it subsequently by our valuable feedback & suggestions.
TEST
Regular tests plays an important role in assessing someone. We at Avyud takes regular tests to check whether the students are understanding everything that is being taught in the class or not.
ASSIGNMENTS
We give regular assignments to our students. Assignments benefit students in the following :
Assignment problem compels you to study,which is good.
Improves your analytical and problem solving skills.
Increases patience and endurance to tolerate pressure.
GROUP DISCUSSIONS
Group discussion exercises are used to assess general behaviour traits such as listening skills, social skills and problem solving skills, although depending on the job you have applied for other behaviour may be assessed as well.
ASSESSMENT INTERVIEWS
are so useful because they offer more time to assess a variety of skills, so make sure you take advantage of that.
Assessment interview techniques allow an organization to quantitatively determine if an applicant has the necessary skills and knowledge to complete the tasks.
QUIZ
Frequent testing encourages students to study. Having frequent quizzes and tests motivates study and reduces procrastination.
Quizzes and tests help students to learn, because these tasks involve retrieval practice, or thinking back to information previously learned and bringing it to mind.
CASE STUDIES
There is no doubt that case studies are a valuable and important form of research for all of the industries and fields that use them.
We at Avyud gives candidates (individually or as part of a team) some information to analyse and to draw different conclusions from.